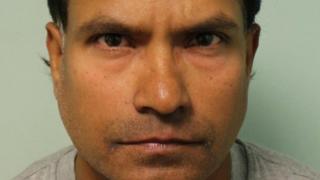 A man who shot dead his heavily pregnant ex-wife with a crossbow in a "brutal and evil attack" has been jailed.
Sana Muhammad, 35, was shot in the abdomen by Ramanodge Unmathallegadoo at her Ilford home on 12 November, 2018.
He hid in the shed in his ex-partner's garden armed with two crossbows, bolts, a knife, duct tape, cable ties and a hammer, the Old Bailey heard.
Unmathallegadoo, 51, was jailed for life with a minimum of 33 years.
Mrs Muhammad's son – her sixth child – survived the attack and was delivered by Caesarean section, the court heard.
On the morning of November 12, the defendant, armed with two crossbows, was disturbed by Mrs Muhammad's husband Imtiaz, who had gone to the shed to store a box.
Unmathallegadoo ran into the house and shot his ex-wife with an 18-inch arrow as she fled upstairs.
Judge Mark Lucraft QC described the killing as "brutal and evil", saying if it was not for the presence of her children, Unmathallegadoo would have shot Mr Muhammad too.
Jurors heard Unmathallegadoo had been plotting the attack for weeks – buying two crossbows which were discovered near his ex-wife's home by a neighbour in March 2018.
"You have carefully planned this attack. You had two loaded crossbows and I'm entirely satisfied you intended an attack on Sana and then on Imtiaz," the judge said.
"One can only assume that you were jealous of their life together and the fact that they had formed a loving bond between themselves and with your children."
'My best friend'
Mrs Muhammad's widower previously paid tribute to his outgoing "soul mate".
"She was very friendly, talkative and always made me laugh. She was my soul mate, my best friend, my wife, my companion and my everything and I love her dearly.
"Ram must have been very jealous of the life Sana and I had and that we were living a happy life."
The court heard the victim was 16 when she entered into an arranged marriage with the defendant, then aged 30, in Mauritius.
Their relationship ended in 2012 after an incident where she jumped from an upstairs window and broke her ankle.
Mrs Muhammed filed for an order which banned the defendant from going within 100 metres of her home.
It was still in place at the time of the attack.
24 hour pest control falconwood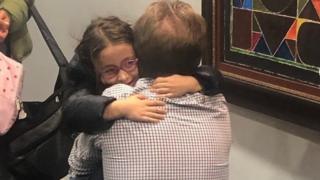 The five-year-old daughter of a British-Iranian woman jailed in Iran on spying charges has returned to the UK.
Nazanin Zaghari-Ratcliffe, 40, a charity worker from London, has been detained for three years over the allegations which she denies.
Gabriella – who has been living with her grandparents in Tehran – has returned to start school.
Her father Richard said it had been a "long journey" to having her home.
"Gabriella came back to us late at night, a bit uncertain seeing those she only remembered from the phone," he said.
"Now she is peacefully sleeping next to me. And I am just watching."
Thanking the British Embassy and the Iranian Foreign Ministry, he added: "It has been a long journey to have her home, with bumps right until the end."
Gabriella has visited her mother at least once a week since her arrest in April 2016.
'Job not yet done'
Mrs Zaghari-Ratcliffe's family say she was in Iran to introduce her daughter to relatives.
Last week, they told the Times that her parents had agreed Gabriella should return to the UK for the start of the school year in September but postponed the decision after Mrs Zaghari-Ratcliffe was taken to a psychiatric hospital.
Mr Ratcliffe had told the BBC that his wife was hoping for a "magic" last-minute release to enable her to come home with Gabriella.
Speaking after being re-united with his daughter, he added: "Of course the job is not yet done until Nazanin is home. It was a hard goodbye for Nazanin and all her family. But let us hope this homecoming unlocks another."
The family's MP, Labour's Tulip Siddiq, said Gabriella's parents have made a decision that "no family" should have to make.
"It is heart-warming to see Gabriella reunited with her father after 1,300 days in Iran, but heart-breaking that she is separated from her mother Nazanin," Ms Siddiq said.
"Nazanin is at breaking point, and today is yet another reminder that she has been failed at the very highest levels of government."
Hampstead and Kilburn MP Ms Siddiq called on Iran to end its "hostage diplomacy" and release Mrs Zaghari-Ratcliffe.
Last month, Prime Minister Boris Johnson called for the release of Mrs Zaghari-Ratcliffe during a meeting with Iran's president.
In 2017, when he was foreign secretary, Mr Johnson had to apologise after saying she was in Iran "teaching people journalism" – despite her family's insistence she was there on holiday.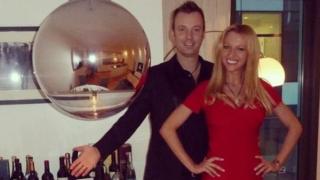 A drug dealer who sparked fears of a Novichok attack similar to that which hospitalised a former Russian spy and his daughter has been jailed.
Alex King went on the run in December after claiming he had been poisoned at a Prezzo restaurant in Salisbury.
The hoax in September came six months after the nerve agent was used against Sergei Skripal and his daughter Yulia.
King, 42, was found guilty of selling drugs, including cocaine and ecstasy and sentenced in January to 11 years.
He was arrested on Wednesday, admitted breaching his bail, and was jailed at Southwark Crown Court for a further four months.
'Glamorous, seedy existence'
King claimed he had been poisoned in a branch of Prezzo, where he had been dining with his Russian-born wife, Anna Shapiro, last September.
It sparked a major incident and the area was sealed off in echoes of the aftermath involving the Skirpals, who fell ill shortly after leaving Zizzi, another Italian dining chain in the city.
King was last seen leaving a flat near Harley Street, with his wife, on 17 December.
He was arrested about half a mile away at an address in Chiltern Street, in Marylebone, west London.
Scotland Yard said a 30-year-old woman who was arrested for assisting an offender remains in police custody.
King's lifestyle was laid bare in court earlier this year when he was convicted of two charges of conspiracy to supply Class A drugs, one charge of conspiracy to supply Class B drugs and one charge of conspiracy to supply Class C drugs.
Sebastian Gardiner, defending one of King's associates, described King in court as a "very bizarre" character who lived a "glamorous, albeit seedy, existence", making money from arranging parties, selling drugs and supplying high-class escorts to his VIP clients.